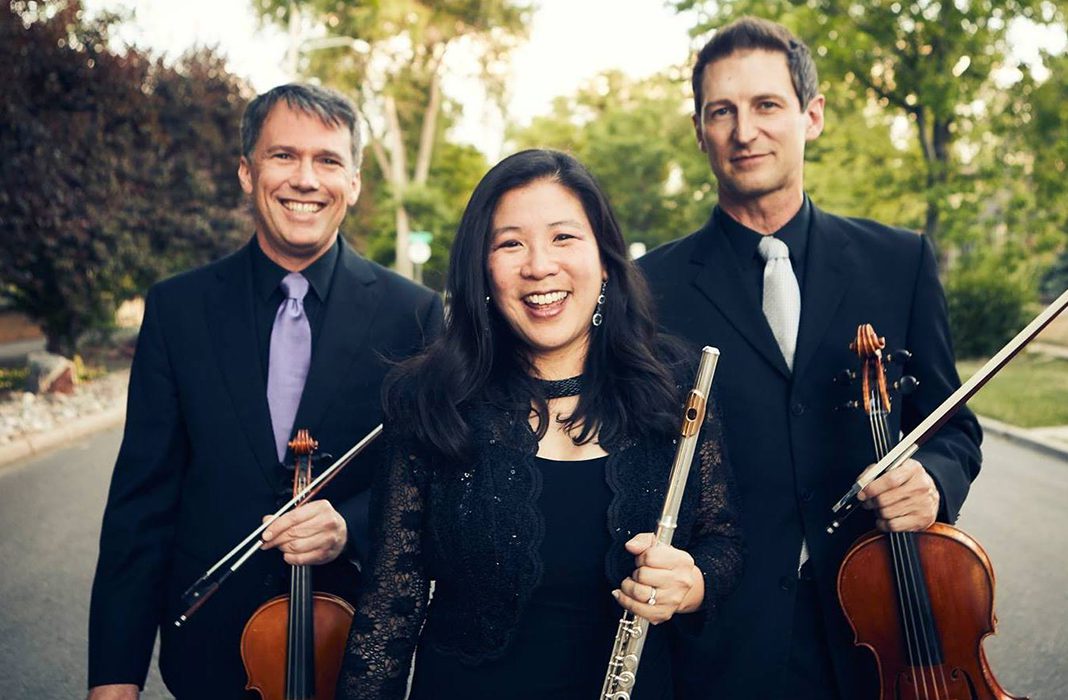 04/10/2021, 10:00 am
Zoom
The CFA's Saturday Series will conclude with the Ivy Street Ensemble! Comprised of Colorado Symphony musicians Cathy Peterson, Erik Peterson, and Philip Stevens, the Ivy Street Ensemble is a chamber ensemble of flute, violin, and viola that strives to bring great live music to audiences of all ages. Come learn the ins and outs of starting a successful chamber ensemble, producing a concert series, playing with string instruments and commissioning works for unique instrumentation. Followed by a special viewing of a performance from the trio!
Thank you to Sherry Lee for her sponsorship of this Saturday Series event!
---
During the 2020-2021 season, the CFA will host a virtual Saturday Series in lieu of our annual in-person Flute Fair. These events, accessible through Zoom, will take place on the second Saturdays of October, November, December, February, March, and April. You must have a current membership to sign up for the Saturday Series. The cost to attend all six events is only $15! Zoom links will be emailed to all registered participants at least 24 hours prior to the start of each event.
Make sure to follow all the events on our Facebook page for up-to-date information!
Ivy Street Ensemble
Having played together since 2001, the nationally recognized Ivy Street Ensemble is based in Denver, Colorado. Recently awarded Second Place for The American Prize Chamber Music 2015, ISE continues to present classical music to audiences around the country. In February, 2016, ISE was presented by SAC Presents in Corvallis, Oregon, and visited several schools in the Corvallis community.
They have performed throughout Colorado and can often be heard in Oregon as part of the Chintimini Chamber Music Festival. Classical music lovers in Denver can hear them frequently broadcast on Colorado Public Radio. Ivy Street Ensemble was selected by Chamber Music America to have a composition commissioned for their trio by Kenji Bunch in 2012. In 2008 they were finalists in the National Flute Association Chamber Music Competition. Comprised of three Colorado Symphony musicians, Cathy Peterson, Erik Peterson, and Phillip Stevens, the ensemble presents a diverse array of classical chamber works from the baroque era to 21st century compositions. The Ivy Street Ensemble regularly performs at elementary schools in the Denver-metro region. Their young audiences are usually comprised of children ranging in age from 5 – 11 years old.
The Ivy Street Ensemble's education concerts are geared toward introducing a variety of instruments, while at the same time giving a tangible lesson on theme and variation that children of all ages can understand.
---
Catherine Peterson
Catherine Peterson is Assistant Principal/Second Flutist  with the Colorado Symphony Orchestra. A regular performer with the Baltimore Symphony Orchestra since 2010, she performed Prelude a l'apres-midi d'un Faun at Myerhoff Symphony Hall, and toured Carnegie Hall with the BSO. She has also performed with Detroit Symphony and Cincinnati Symphony. An active chamber musician and educator, she performs with the nationally recognized Ivy Street Ensemble throughout Colorado on various concert series and at schools across the Front Range bringing music to the next generation.
Her previous musical engagements include Principal Flutist with the Central City Opera, Principal Flutist with Emerald City Opera, and co-Principal flutist of the Strings Festival in Steamboat Springs, Colorado. Cathy is a regular performer at the Chintimini Chamber Music Festival in Corvallis, Oregon, and Front Range Chamber Players in Fort Collins, Colorado.
Cathy was a semi-finalist in the Heida Hermanns Ineternational Woodwind Competition, the Houston Symphony Ima Hogg National Young Artist Competition, and the Concert Artists Guild Competition. She placed second in the National Flute Association Young Artists Competition in Atlanta. As a member of Ivy Street Ensemble, she has been a finalist in the National Flute Association Chamber Music Competition and was awarded Second Place for The American Prize Chamber Music 2015.
If you tune in to Colorado Public Radio, you will often hear Cathy broadcast with solo recordings as well as music with Ivy Street Ensemble. Released in 2015, the Ivy Street Ensemble's CD Serenades: Then and Now has been met with glowing success from music lovers across the nation.
She has a large private studio of fantastic flute students of all ability levels, and is the flute coach for the Denver School of the Arts. Founder of the Mile High Flute Camp and co-Director of Mile High Flute Benders, Cathy enjoys sharing the world of flute performance  with students of all ages. She received a Master of Music from the University of Michigan, and a Bachelor of Music from the San Francisco Conservatory of Music. Her teachers include Jeff Zook, Leone Buyse, Tim Day, and Walfrid Kujala.
Saturday Series - Sign Up