Saturday Series 5: Baroque Performance Practice for Modern Flutists with Jennifer Grim
Virtual Happening
03/13/2021, 10:00 am
Zoom
Jennifer Grim, Associate Professor of Flute at the University of Miami's Frost School of Music, will offer her insights and expertise with a class on Baroque Performance Practice for Modern Flutists. This is a unique opportunity to learn from a master traverso player and discover new insights and knowledge that we can all apply to our modern flutes.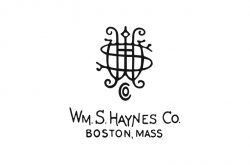 Thank you to Wm. S. Haynes Co. for their sponsorship of this Saturday Series event. 
---
During the 2020-2021 season, the CFA will host a virtual Saturday Series in lieu of our annual in-person Flute Fair. These events, accessible through Zoom, will take place on the second Saturdays of October, November, December, February, March, and April. You must have a current membership to sign up for the Saturday Series. The cost to attend all six events is only $15! Zoom links will be emailed to all registered participants at least 24 hours prior to the start of each event.
Make sure to follow all the events on our Facebook page for up-to-date information!
Hailed as "a deft, smooth flute soloist" by the New York Times, Jennifer Grim's remarkable depth and breadth as a performer of solo and chamber repertoire has gained broad national acclaim. She has performed with such renowned ensembles as the Chamber Music Society of Lincoln Center and St. Luke's Chamber Ensemble and is the flutist of the award-winning Zéphyros Winds and the New York Chamber Soloists. She also serves as Principal Flute of the Mozart Orchestra of New York and the Santo Domingo Festival Orchestra and has given solo and chamber performances throughout the United States and in China, Colombia, Panama, Dominican Republic, Ukraine, the Netherlands, and Spain.
Ms. Grim has performed as a soloist with the Frost Wind Ensemble, Lviv Philharmonic, Boca Raton Symphonia, Frost Wind Ensemble, UNLV Symphony Orchestra, Henderson Symphony Orchestra, the Vermont Summer Music Festival, among others. As a guest artist, she has performed with the Boston Chamber Music Society, Alpenglow Chamber Music Festival, and the American String Quartet with harpist Nancy Allen. With Zéphyros Winds, Ms. Grim recently performed the American premiere of the Wolfgang Rihm Wind Quintet in New York City at the Music in Midtown Chamber Music Series. The ensemble has also held residencies at the Juilliard School, Eastman School of Music, Stanford University, Yale School of Music, San Francisco State University, Brigham Young University, the University of North Carolina School of the Arts, Skidmore College, University of Maryland, Baltimore County, and Brandeis University. An avid baroque flutist, Ms. Grim studied with renowned artists in New York, Boston, and Amsterdam and is a member of Cosmopolitan Baroque. The ensemble has been in residence at the University of Nevada, Las Vegas (UNLV) and Dixie State College. In demand as a clinician, she has given masterclasses across the country, specializing in both solo and chamber music.
In 2012, Ms. Grim founded the UNLV Chamber Music Society, an organization that presents concerts performed by UNLV faculty as well as esteemed chamber ensembles such as the Ying Quartet, Boston Brass, Horszowski Trio, American String Quartet, and many others. She is also a passionate advocate of diversity initiatives in the field of classical music, and has curated concerts featuring African American, Latin American, and Latino composers. Ms. Grim was recently awarded a Provost Research Award from the University of Miami for an upcoming recording project of the works of Valerie Coleman, Alvin Singleton, David Sanford, Allison Loggins-Hull, and Diego Vega. She has also worked with the Youth Orchestra of Los Angeles (YOLA) National Festival, which invites students from El Sistema inspired programs across the United States to perform in a national youth orchestra performance at Walt Disney Concert Hall in Los Angeles, California.
Ms. Grim is currently Associate Professor at the Frost School of Music at the University of Miami. She previously served on the faculty of the University of Nevada, Las Vegas for twelve years and in 2017 was honored with the Teacher of the Year Award from the UNLV College of Fine Arts. A native of Berkeley, California, Ms. Grim holds a Bachelor of Arts degree from Stanford University and Masters and Doctor of Musical Arts degrees from Yale University. Ms. Grim currently serves on the Board of Directors of Chamber Music America and is the Program Chair for the National Flute Association 2021 Annual Convention in Washington DC.
Saturday Series - Sign Up